 Free Digital Marketing Review
We'll show you how to hit your business goals with result-driven digital marketing.
Google My Business (Now Google Business Profile) recently – depending on when you're reading this – rolled out an important new feature; the ability to add Google My Business short names, which creates a short and more personalised URL for your Google My Business profile.
This post will take you through what Google My Business short names are, why this feature is important, and how to create a short name and a short business URL.
If you're still struggling with local search and getting customers through the door, contact us for help or to have us take care of your SEO for you!
What is a Google My Business Short Name?
A short name on Google My Business is simply a name you can assign to your Google My Business page so that your page is easier to find.
It can be up to 32 characters long and needs to be unique. No other business can have the same short name as you.
Think about it like a social media handle. It's what people @ you with on Twitter and Instagram.
Because of this, it's wise to get in early as your business name may already be taken, especially if it's similar to others worldwide. You'll want to either get your business name as it is or the best variation.
You'll always have some unscrupulous characters who see this as a money-making opportunity and sweep up some popular business names to sell back to businesses
(though this strikes us as a ridiculously labour-intensive process, one which would walk that fine line between unethical and downright illegal!)
Benefits of the Google My Business Short URL and How to Use it
To use your business short names, you just need to add them to the end of g.page/ (we'll show you how in more detail a bit further in the article)
You then can easily give your business details to your customers. This has various benefits and uses, including:
Once you create a short name, you'll also get access to a short URL to request reviews from customers. Reviews are an important part of the Google local business algorithm, and short names make it easier for your customers to leave them
The short name link is useful for sending driving directions, too since your Google Maps location appears
Add it to business cards, email signatures, and autoresponders.
What Does A Short Name in GMB Look Like?
Here is what a short name looks like from the business owner's perspective.
We went for @LinkDigitalUK as there is another business called Link Digital in the world (meh!)
What is a Business URL and What Does it Look Like When Shortened?
A short URL is a combination of a shortened Google link and your short name. Once you've set up your short name, your short URL will be:
g.page/YourShortName
For example, our short URL is:
Cool right? Click the link to see what your clients will see when you provide them with your short URL.
It'll look something like this – an overview of your business with a Google Maps pin drop of your location and nearby areas:
The short URL is an easy-to-remember link that you can write down easily, fit on business cards and quickly give to customers so they can find you easier.
I'd nab a good name as quickly as possible for your business to avoid disappointment.
How To Setup A Short Name & URL On Google My Business in 3 Simple Steps
Follow these steps to set up a short name and URL for your business on Google My Business.
Since GMB is important for your local SEO, you should look into getting this set up asap.
Like on social media, if you're late to the party, you don't want to end up being a John_X_0_5m1th when your name is John Smith. The early worm gets the bird.
Here's a step-by-step guide on setting up your Google My Business short name:
Login to your GMB account
Sign in here: https://business.google.com/locations
or via the GMB app for your phone.
If you're already signed in you'll see the screen below (if not, simply sign in and you'll be taken here)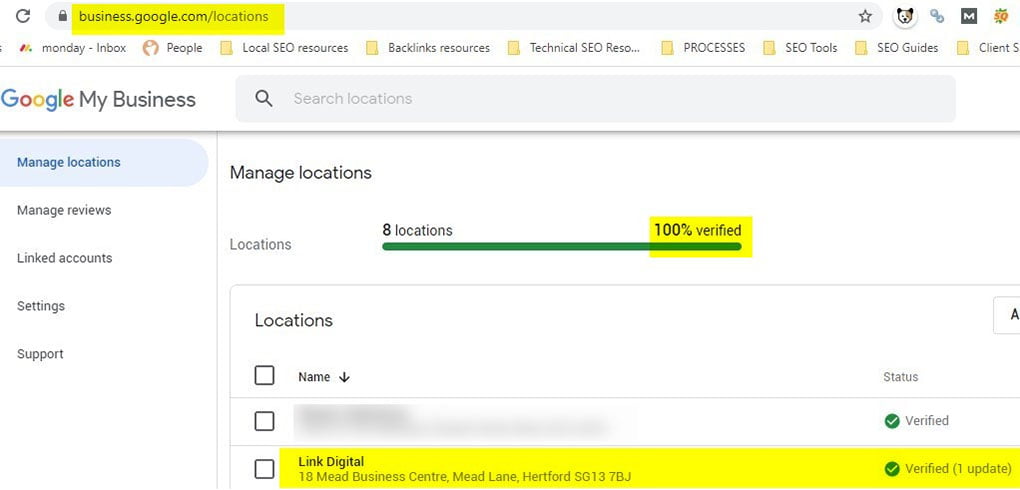 If you haven't already created a Google My Business profile and aren't sure how we have an ultimate guide that covers how to set up Google My Business from start to finish to generate free leads and customers for your business!
NOTE: Short names are only available to verified businesses. You must make sure you verify your business using one of Google's verification methods here
Click on "info" in the left-hand menu
Desktop:
Click on info in the menu and scroll down until you see the @ symbol, and click the pencil to edit or add your short name to your GMB profile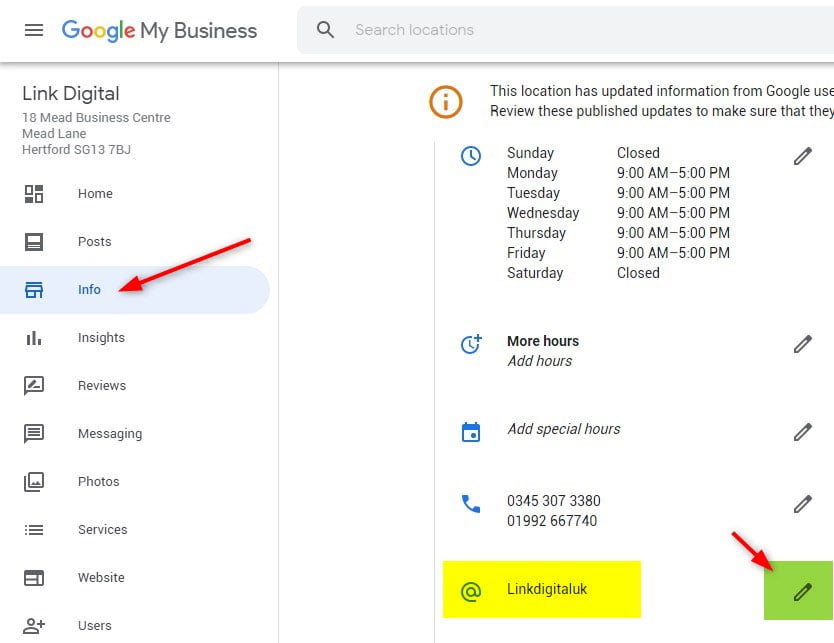 Using the app:
You'll click on the "profile" at the bottom of your screen and click on "Add profile short name".
If you change your mind later, your short name can be changed by following the same step and hitting the "edit" option.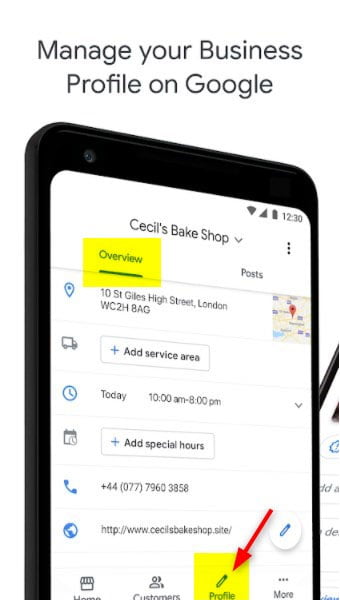 Add Your Google My Business Short Name
You'll see a pop-up where you will be prompted to add your short name to your Google profile. You won't be able to click on apply or save if the name is unavailable.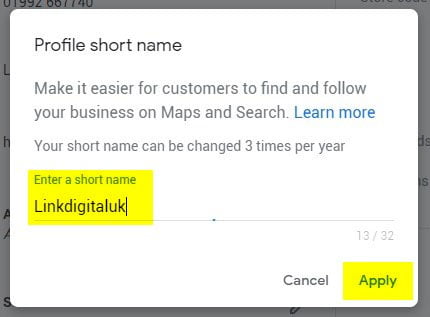 Once you and Google are both happy with your name, hit "save" or "apply" if you're changing an existing short name.
And You're Done!
That's it – easy as that! The short name is an easy feature to set up and immediately use.
Be sure to claim your Google My Business short name and short URL as soon as possible to get the name you want – With this feature, you can now be more proactive in helping your customers find and engage with you.
Need Help With Local SEO?
If you're still struggling with local search and getting customers through the door, contact us for help or to have us manage the whole process for you!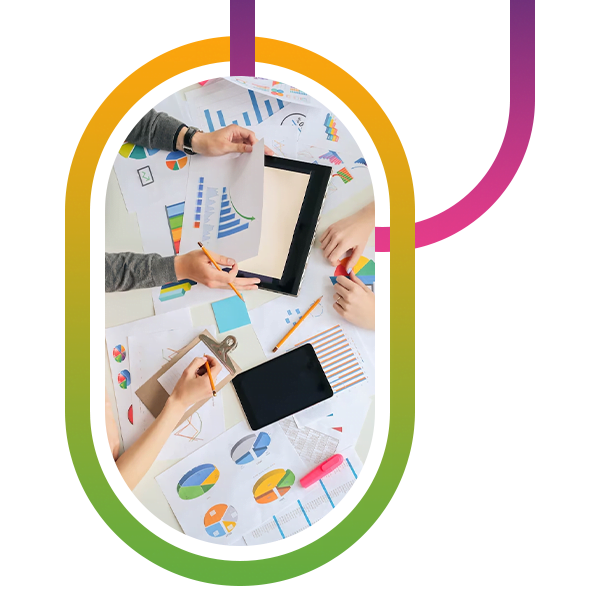 Need help with your website and marketing?
Book a FREE growth strategy session with our experts
Our award-winning team will review your website and marketing goals to provide you with crucial insight and advice.

4.8 STAR
Google reviews
With 10+ years of experience, Link Digital has helped hundreds of businesses to succeed online. We can help yours too!