 Facebook, Instagram, Twitter, LinkedIn, TikTok, Pinterest and more.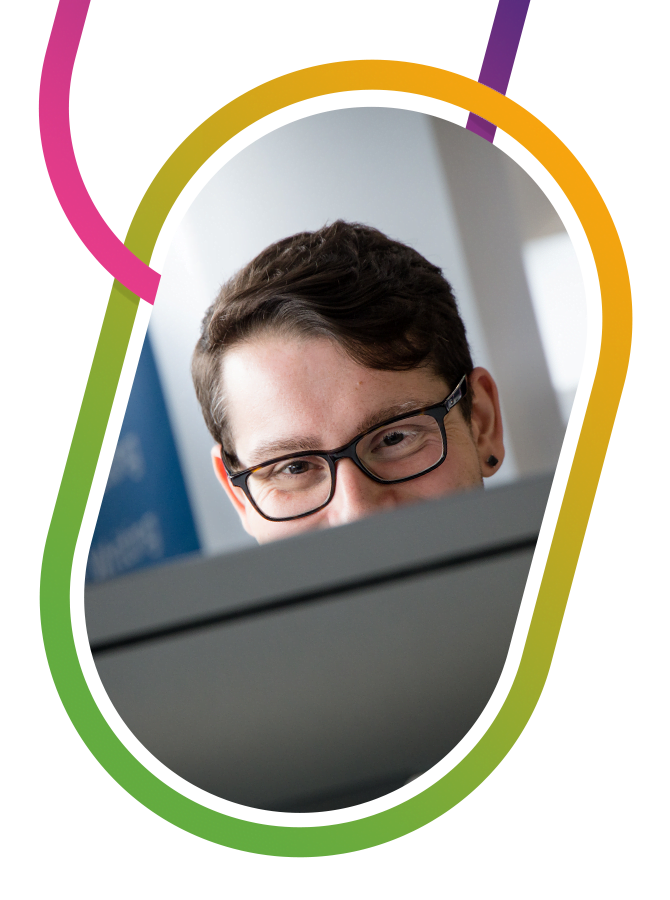 Your trusted social media partner
Why choose social media marketing
Social media has revolutionised how people communicate and now accounts for nearly a quarter of all time spent online. 57% of small businesses use social media and it is helping them to increase brand awareness, improve customer service and boost sales. It is no longer an option, but an essential strategy for growing your business online.
While the benefits of social media are clear, there is no getting away from the fact that it is time-consuming. At Link Digital, we can offer you an affordable social media solution that will release your time and deliver results.
For a free social media consultation, call 0345 307 3380
What you can expect from Link Digital
Increased followers, engagement and sales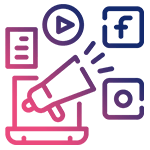 Identifying the right audience for your business and reaching them with effective ads is essential to achieving results. Our expert team can help you succeed!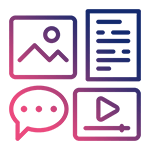 From profile setup and branding, to posting and engagement. Link Digital provides a complete management service across all social media platforms. Ready to Talk?
Book a FREE 30-minute Zoom call to learn more about our social media services. 100% Satisfaction Guaranteed Dedicated Project Manager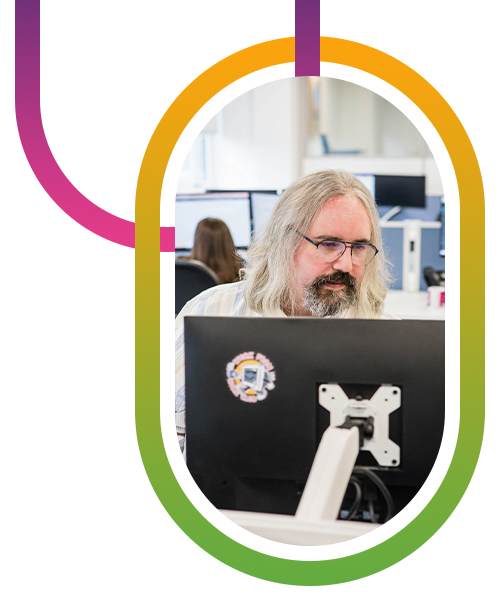 It's all about
Engaging content
At Link Digital, we help produce social media content that increases brand awareness, attracts followers and builds brand advocacy. From copywriting and graphics, to video and animation, we love nothing more than getting creative and producing content that delivers results.
For a free initial consultation, call Link Digital on 0345 307 3380
Amplify your brand awareness
How Link Digital can help you
We will launch and optimise your social media strategy on Facebook, Twitter, Instagram, LinkedIn and more.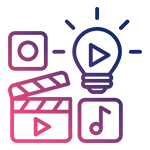 Content Creation
Original content including copywriting, social posts, graphics, video, infographics, blogs and more.
Content Distribution
Get your content seen by the right audiences across earned, owned and paid media.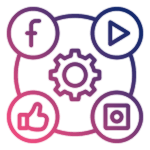 Posting, monitoring and engaging in conversations about your brand, products and industry.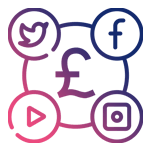 For increased reach we can manage your paid advertising and boost posts on social media.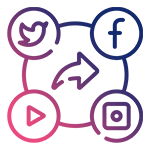 All Major Platforms
We support Facebook, Instagram, LinkedIn, Twitter, YouTube and more.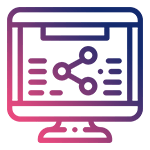 Reporting
We keep you in the loop at all times with detailed performance reports and expert analysis.
Don't just take our word for it
See what others have to say
Excellent
4.8
★
★
★
★
★
Based on 22 reviews from
review us on
Brian Simmons
★★★★★
Link Digital is a really great company to work with, Mark certainly knows his stuff. I highly recommend all of the team. Many thanks.
Adam T
★★★★★
Link Digital are superb in all aspects. Our previous web developer favourite words were "chargeable" even for things that were not right from the get go... as soon as the site went live there was no support and bills kept raining down... so we looked to change more out of frustration rather than necessity... But so glad we did! Working with Link Digital was easy going and together we got a more functional site, better loading speeds and all round better results from our site than ever before. Link Digital handled the new website design plus on going do our SEO and Adwords management and I will give them 10/10 in every area. The most important factor though is we have seen a substantial increase to business since working with LinkDigital. Highly recommended.
Wes Pierce
★★★★★
Great service, have driven up google search rankings and are a pleasure to work with.
Sam Ward
★★★★★
Worked with Mark across several sites now. The whole LinkDigital team is brilliant and easy to work with. The websites we have them manage have all seen increases in sales/leads and our adword spend, returns so much more now. Since employing LinkDigital for our SEO management as well, organic placement is up, with us seeing 1st page hits across many of our keywords in competitive markets. Google analytics all aspects have been increasing and most importantly all this has resulted in increased turnover and profits. Worth every penny of investment and more.
Imran Kassim
★★★★★
Really great company to work with, highly recommended.
Amazing Apprenticeships
★★★★★
Link Digital have been a fantastic support, always on-hand with advice and solutions.
Costa Ouloupis
★★★★★
A great company to work with, Mark is a true gem, within a few weeks i have noticed an uplift in business, all my website and marketing requirments have been fully met. Thanks Guys
Jonathan C.S
★★★★★
I have just started an online based business and was recommended Link Digital through a friend of mine. Mark and the team have provided a fantastic service and product.I have felt comfortable during the entire process of the website build and know that any questions or ideas I have will be listened too and acknowledged.Mark has also provided brilliant knowledge and ideas that have helped to solidify the foundations and ultimate goal the business and its services set out to achieve.I highly recommend people consider using Link Digital for any website development needs.
Linia Skin
★★★★★
Mark and his team have been nothing but exceptional! Mark has been assisting me with a rebranding project and I am so grateful for both his time and efforts to support me in my vision. I'm certainly tenacious in character, but Mark and his team at Link Digital have been extremely patient and understanding. I'm super excited to see the finished product and would highly recommend their services. If you are looking for a warm and friendly team, who take their time to understand your requirements, then Link Digital is for you! Thanks Mark, appreciate you! Kind regards, Verity.
Carlo Pegna
★★★★★
Impressive turn around with the website migration, thank you. League above the customer service of the hosting supplier I migrated from.
Kristian Reddy
★★★★★
Pete has done an outstanding job at building my website. It is exactly what i wanted it to be. Thank you very much.
Lola Bailey
★★★★★
Link Digital is the type of website design company most business owners can only dream about. Under Peter's exceptional leadership, we now have a website that not only brings our vision to life but is slick and cool and intuitive to navigate. Link Digital has become our go-to web design company and I have no hesitation in highly recommending the LD team. An accolade I rarely give.
Tecker Twins
★★★★★
WOW! Such a great team who have helped us finish a website after using other not so qualified developers. Link Digital are incredible at what they do and are definitely worth putting your trust into. Looking forward to working on future products with them. Thanks to Chris and Antonia for their constant non-stop updates and help. Regards, The Leden Group Ltd
Arjinder Chohan
★★★★★
Mark has been an absolute legend, very helpful, knowledgeable and professional - highly recommended. Great Service all the time! Thanks
Stuart Brooks
★★★★★
Mark, Giuseppe and the team at Link offer an excellent and highly expert service on all matters relating to web design and maintenance. As well as building my company website, they manage a number of my client websites and are always responsive to our needs. I would recommend them without hesitation.
Carl Dawson
★★★★★
Very helpful and great value for money digital marketing.
Jack Tripp
★★★★★
A tremendously personal, professional and affordable approach to web design! I could not recommend them more, we got excellent advice and a tailored approach the whole way through the process. Thanks Link Digital!
Reuben Sinclair
★★★★★
A no nonsense, no jargon approach to digital marketing. Great digital marketing services that don't cost the earth!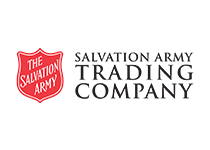 Frequently asked questions
How long have you been managing Social Media?
Since 2013, we've been at the forefront of social media marketing. With years of experience under our belt, Link Digital is well-equipped to craft engaging social media strategies tailored to your business needs.
Does my company need to be on every social channel?
Not necessarily! Every social channel has strengths and weaknesses, and the right choice depends on your target audience and marketing goals. At Link Digital, we in understand these nuances, allowing us to help you choose the best social channels tailored to YOUR needs. Rather than spreading thin across every platform, we focus on where your business can make the most impact.
What makes you different from other social agencies?
At Link Digital, we stand out with:

✅ Joined-up Strategies: Aligning social media with your overall digital business goals.
✅ In-House Expertise: creative and marketing experts craft tailored content and focus on measurable results.
✅ Effective Advertising: From engaging ads to targeted landing pages, we turn clicks into conversions.

We don't just follow trends; we create tailored, effective strategies that set you ahead.
Why should I invest in social media marketing?
Investing in social media marketing is a strategic move to increase your business growth. It's more than just building brand presence; it's about engaging with potential customers, driving targeted traffic to your website, and converting those interactions into leads and sales. With Link Digital, social media becomes a powerful tool in your arsenal, turning likes and shares into revenue.
Will you help my business with a content plan?
Yes, we will assist and support you with your own personalised, detailed content strategy to guarantee you results.
How does Link Digital keep up to date with the changes in social media?
We have an expert team in house who pride themselves in keeping up to date with the latest trends and revolutions in the world of digital marketing, we continually keep in the loop and love to research the ins and outs of social media developments.