 Free Digital Marketing Review
We'll show you how to hit your business goals with result-driven digital marketing.
In today's fast-paced digital world, the automotive industry is not immune to the profound impact of technology. To survive and grow, automotive businesses must embrace digital marketing and leverage effective website design strategies.
With Autotrader and eBay's increasing costs of services, the focus on dealing directly rather than relying on marketplaces is constantly increasing.
Website Design For the Automotive Industry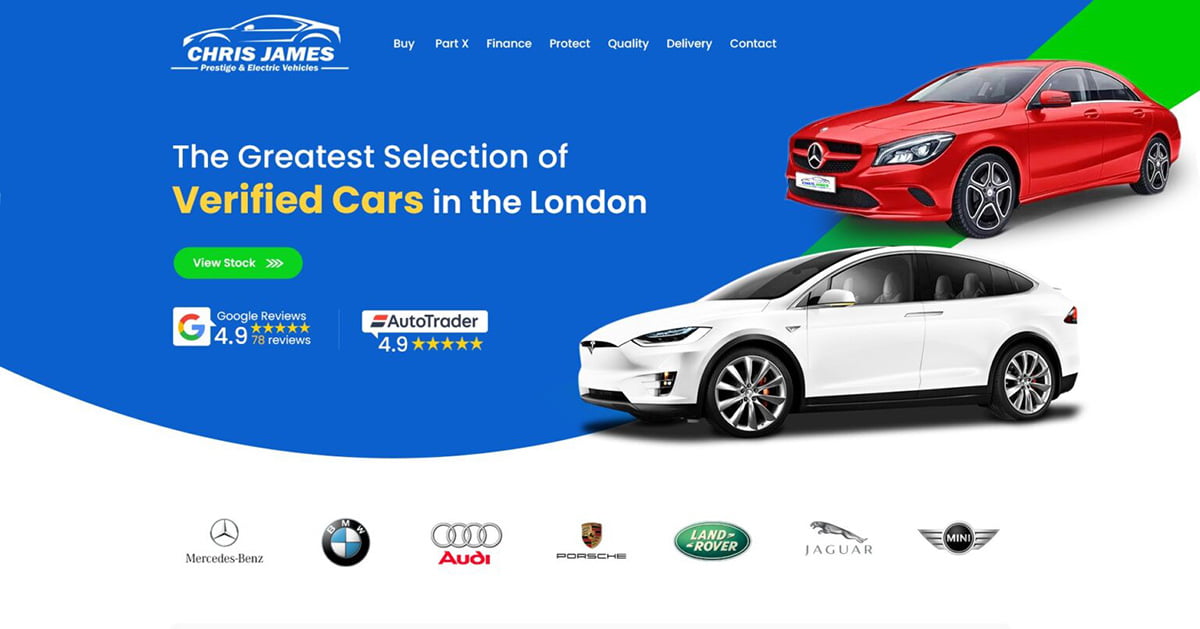 A well-designed website is the cornerstone of a successful digital marketing strategy in the automotive industry. It should reflect the brand's identity, be user-friendly, and provide a seamless browsing experience.
Critical considerations for website design include:
Responsive Design: With the increasing use of mobile devices, we would take a mobile-first approach when designing your website. This should reflect the constraints of smaller screens.
Intuitive Navigation: Logically organise your website, making it easy for visitors to find the information they seek. This includes clear menus, search functionality, and easily accessible contact details.
Visual Appeal: Incorporate captivating visuals, such as high-resolution images and videos, plus virtual tours to showcase vehicles and dealership facilities to connect emotionally with potential customers. The latest turntable technology combined with photography is driving up the quality of imagery, enabling independent dealers to create imagery as good if not better than those produced by the big dealerships
Site Speed: With an emphasis on mobile and tablet users, the speed of your site is also an essential consideration not only for the customer experience but also for its benefit in terms of search engine optimisation.
Search Engine Optimisation For Car Dealerships
Targetting Local Search Traffic
The days of independent dealers having large showrooms and easily accessible vehicles have changed. These days many dealers work on a viewing-by-appointment basis. This is driven by the costs associated with having an open house. As a result, the location of your local car dealer isn't always obvious. Therefore local marketing is as key as regional/national advertising.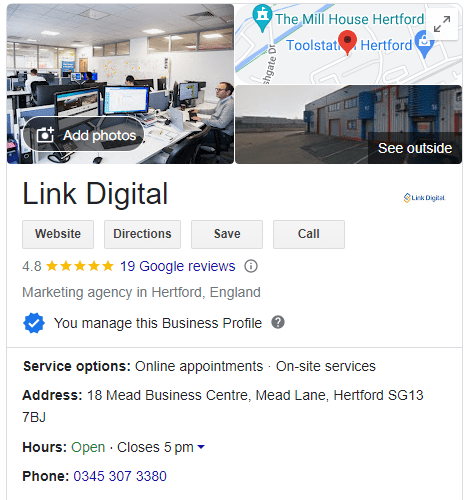 Local SEO, Google Business Profile, and Bing Places:
Local search engine optimisation (SEO) ensures your dealership or automotive service centre appears prominently in local search results. Maximise your local visibility through the following:
Optimised Content: Craft high-quality content with local keywords and phrases relevant to your business, services, and location.
Google Business Profile: Claim and optimise your Google Business Profile, ensuring accurate information, such as opening hours, contact details, and customer reviews. This boosts credibility and enhances local visibility. You can enable appointment setting through connections from the booking tab pn your GBP to your scheduling provider.
Bing Places: Similarly, create and optimise your Bing Places listing to expand your reach to Bing search engine users. This is a valuable section of traffic as there is a bias towards desktop users.
Targetting National Search Traffic
95% of vehicle buyers use digital as a source of information. Since auto purchases are highly considered, most vehicle shoppers use online resources to find answers to their questions. (source: Google)
Autotrader: 41% of buyers are prepared to complete their car purchase purely online, four percentage points higher than a year ago. And that rises to 61 per cent once presented with the concept of an online sale – one where a buyer chooses a car online, has it delivered to their home, and has seven days to decide if it is for them."
Car dealers can leverage Search Engine Optimisation (SEO) strategies to increase their visibility to potential customers searching for cars online.
Firstly, keyword research is crucial. Dealers should target keywords that potential customers will likely use when searching for cars. These could include specific vehicle makes and models, phrases like "used cars in [location]", "best car dealerships near me", or even more specific queries like "fuel-efficient compact cars". By integrating these keywords strategically into the website content, meta tags, URLs, and alt tags, dealerships can improve their search engine rankings for these terms.
Moreover, a well-structured, user-friendly website with valuable and informative content will likely rank higher in search engine results. Car dealers should ensure their website is easy to navigate, mobile-friendly, and contains useful information about the cars they have for sale. This might include blog posts comparing different car models, FAQs about the car buying process, or video tours of available vehicles.
Finally, earning high-quality backlinks from reputable websites is another effective way to improve SEO. For example, dealerships could be featured in local news outlets and automotive blogs or partner with other local businesses for mutual promotion.
In short, by integrating SEO strategies into their digital marketing efforts, car dealers can attract more organic traffic from people looking to purchase a vehicle.
Bing Car Ads
Bing Car Ads is a powerful advertising tool that allows car dealerships to create highly targeted and relevant ads for potential buyers. Leveraging Microsoft's expansive search network, these ads provide a platform for automotive businesses to showcase their inventory to a wide range of in-market car shoppers. The ads can be tailored to feature specific models, prices, and other details, making them highly effective at capturing user interest and driving engagement.
The most significant advantage of Bing Car Ads is their integration with Bing's intelligent search capabilities. Using advanced data analytics and machine learning algorithms, Bing can present these ads to users looking to buy a car based on their search patterns and behaviours. Furthermore, Bing's location targeting ensures that ads are displayed to potential buyers in the same geographic area as the dealership, increasing the likelihood of a visit or purchase.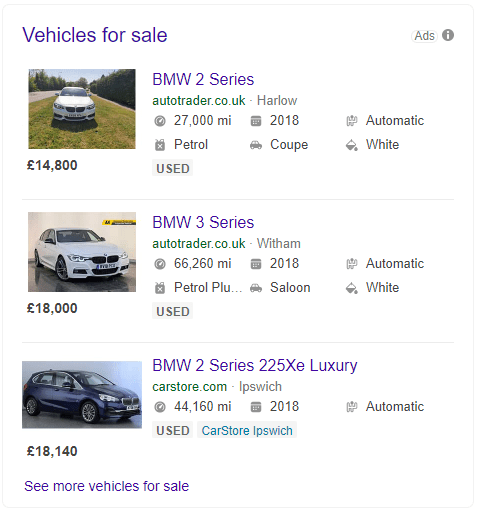 This blend of personalisation and relevance makes Bing Car Ads valuable in any car dealership's digital marketing strategy. A word of caution, the challenge with Bing Car Ads is the use of the platform by large car marketplaces with big budgets. Just a word of caution, these ads tend to swamp the ads of small dealerships, and it can be difficult to get real traction on this service as an independent
Google Vehicle Ads
Google also has a service called Google Vehicle Ads until recently, unavailable in the UK. Google has announced that these ads will launch later this year (2023). Here at Link Digital, we can see this as being a significant disruptor in the traditional car buying process, particularly as it has confirmed that "The ads will not be served to Google by the likes of Auto Trader or other advertising marketplaces, but instead, a feed will be taken directly from a car dealer's website."
Appointment Setting and Integration
Streamlining the appointment scheduling processes is essential for automotive businesses. Integration between Google Ads/Analytics and CRM tools, such as Calendly, can provide a seamless experience for customers. This allows for convenient appointment booking directly from ads.
Leveraging Facebook for Customer Engagement
Facebook provides an excellent platform for car dealers to showcase their inventory and engage with potential customers. Dealers can create dedicated posts or ads for each vehicle in their inventory, complete with high-quality images, key features, pricing, and contact information. Facebook's advanced targeting tools can display these ads to users based on demographics, location, interests, and behaviours, ensuring that the ads reach individuals most likely to be interested in purchasing a car. Additionally, dealers can use Facebook's lead generation ads, which allow interested users to submit their contact information, request more details, or schedule a test drive, all without leaving the platform.
Further, Facebook's social nature lends itself well to fostering relationships with potential customers. Dealerships can regularly post engaging content, answer questions, respond to comments, and build a community around their brand. Additionally, Facebook's dynamic retargeting ads can re-engage users who have previously shown interest in a particular vehicle. These ads can display the exact car the user was looking at, reminding them of their interest and encouraging them to enquire. In this way, Facebook can help car dealers drive more enquiries and build lasting customer relationships.
In the digital age, the automotive industry must embrace the power of digital marketing and effective website design to stay competitive. By focusing on core website functionality, integrating appointment setting, optimising local SEO through Google Business Profile and Bing Places, utilising national ads like Bing Car Ads, and harnessing the potential of emerging platforms like Google Car Ads, automotive businesses can enhance their online presence and attract more customers. Furthermore, leveraging Facebook as a communication tool and providing timely reminders about MOT and service appointments can foster lasting customer relationships.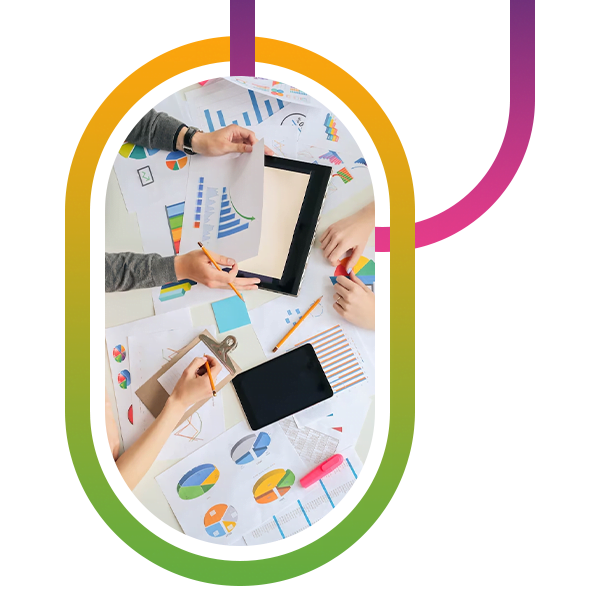 Need help with your website and marketing?
Book a FREE growth strategy session with our experts
Our award-winning team will review your website and marketing goals to provide you with crucial insight and advice.

4.8 STAR
Google reviews
With 10+ years of experience, Link Digital has helped hundreds of businesses to succeed online. We can help yours too!