 Free Digital Marketing Review
We'll show you how to hit your business goals with result-driven digital marketing.
Writing product descriptions is easy enough. Writing product descriptions that convert is where many marketers and business owners struggle.
This can mean any marketing budget spent getting a potential customer to your site is down the drain at the last hurdle.
Fortunately, we have some handy tips to help you write top quality product descriptions that will turn those clicks into sales!
Why are product descriptions important?
Businesses and marketers tend to underestimate the importance of product descriptions.
They are often seen as secondary to images and titles, so it's not uncommon to see product pages with either very poor descriptions or even none at all.
This is a big mistake – product descriptions are a huge part of customers' purchase decisions.
In fact, Onespace found that 98% of shoppers have been dissuaded from purchasing a product because of an incomplete or incorrect description.
Your product description is a bit like a sales pitch.
It's a chance for you to explain your product and convince readers to buy it – so why waste that opportunity with a poor description?
What makes a good product description?
A good product description should strike a balance between informing and persuading.
The reader should be able to determine what your product is, why they should buy it and how it stands out from the competition.
A good product description should communicate this quickly and clearly.
Don't worry, we're going to go into more detail on exactly how to do this!
Write your own – don't use manufacturer descriptions
First things first: if you can, write your own product descriptions!
Though it can be tempting to use manufacturer descriptions (after all, they must know the product well if they made it, right?), this is a bad idea for lots of reasons.
For one thing, manufacturer descriptions can be flagged as duplicate content by Google.
You have to remember; other retailers may be using the same description. This will potentially stop your product page from ranking in the search results.
Manufacturer descriptions also tend to be quite heavy on features and technical information, lacking the persuasive element essential to product copy.
It's also important to write your own descriptions to establish your own brand tone of voice – we'll discuss what this means and how to do it below.
Focus on important features
Before starting to write your product description, ask yourself what the most important features of the product are.
If you had to summarise the product in three points, what would you say?
Customers often don't have the patience to wade through large amounts of text to figure out what they are buying. In fact, only 16% of people read pages word-by-word, with 79% preferring to scan.
So, it's crucial to get your message across quickly and simply.
Consider headline bullet points so customers can easily determine the features of the product even if they are skim reading.
Connect features to benefits
Though explaining the features of your product is important, what many people forget to do is to illustrate the benefits of these features.
Consider what the features actually mean for the customer: how will they improve their life?
For example, if you were selling a winter coat, an important feature might be 'fleece lining', whilst the benefit would be 'for keeping you cosy on those cold winter mornings'.
This might seem self-explanatory, but it is a great persuasive technique as it helps the customer to envisage how the product will fit into and improve their life.
Highlight unique selling points
Customers want to know why they should choose your product over a similar one from another retailer.
Think about the unique selling points of your product and make sure to highlight these in the description.
For example, does the product use any unique or innovative technology? Is it handmade? Unique features such as these can be very persuasive and can encourage customers to purchase your product.
Brainstorm what makes your product stand out from the competition and shout about it from the rooftops!
Maintain readability
When writing copy, it can be tempting to write very elaborately.
Though it's great to be creative and bold in your writing, maintaining readability should be the main goal.
Try not to use obscure or complex vocabulary that might not be suitable for your audience.
Remember that you are not writing an academic essay or a poem! Keep your writing clear and easy to understand.
Prioritise communicating the features and benefits of your product in a way that will translate to your prospective customers.
Establish a tone of voice that suits your brand
If you do not already have a tone of voice, it is a good idea to establish one.
A tone of voice is essentially the writing style you use to communicate with your brand's customers.
Depending on the nature of your company and its audience, your tone may be friendly, formal, chatty or anything you want it to be.
When deciding on your tone of voice, it's important to consider the nature of your customers. If your customers tend to be quite young, a chatty, informal tone may be appropriate.
The nature of your products can also influence your tone; if you sell very high value items, it's better to be slightly more formal to reassure customers of your knowledge and authority before they commit to a big purchase.
A tone of voice can either be a general guide (e.g. maintain a formal tone) or a more specific set of rules (e.g. do not use exclamation marks).
Either way, having an established tone of voice for your brand is a great idea for having stylistic consistency across your product descriptions, particularly if they are written by multiple people.
Avoid unjustified claims
While you want to show everyone how great your product is, be careful with superlatives such as 'best' and 'most' – unless you can back them up.
Buyers are likely to be sceptical of bold, general claims like 'the fastest laptop on the market', so try to only make these claims if you have proof.
How you prove your claims depends on what they are.
With our laptop example, you could compare the technical specifications of your product with top competitors.
For more subjective claims like 'most popular', you could use a survey or social media poll.
Know when to get technical
In most instances, it's best to avoid bombarding your reader with too much jargon and technical information.
However, this does depend on the product and its audience.
If you are selling computers, for example, your readers probably want to know the technical specifications of the products.
On the other hand, if you're selling t-shirts, it's better to focus on features and benefits.
Your audience matters, too – are they technical people? Or will technical information lose their interest?
Focus on the customer, not your brand
Try to focus on the customer rather than your company.
Explain how the product connects to the buyer, instead of just giving your brand's backstory.
Try to use 'you/your' more than 'we/our'. A good way to start your product descriptions is to compliment the buyer in a way that relates to the product.
If you were selling kitchen knives, for example, you could begin your description with 'you're an expert in the kitchen'.
You can then connect this to your product – '…so you need a set of knives' – and show that you understand the customers' pain points – '…that don't easily go blunt' – and are here to help.
Summary
Writing product descriptions that convert takes a bit of thought and planning but is definitely worth the investment.
The product description can be make or break for your potential customers, so it's important to get it right.
Remember that your goal is to inform and persuade your reader. They want to know what your product is and why they should buy it.
Keep this – along with our other tips – in mind and you should be well on your way to writing great product descriptions!
We hope you found these tips useful. If you need a little more advice on writing product descriptions, or any other digital marketing support, contact us for a free consultation and we'll see how we can help.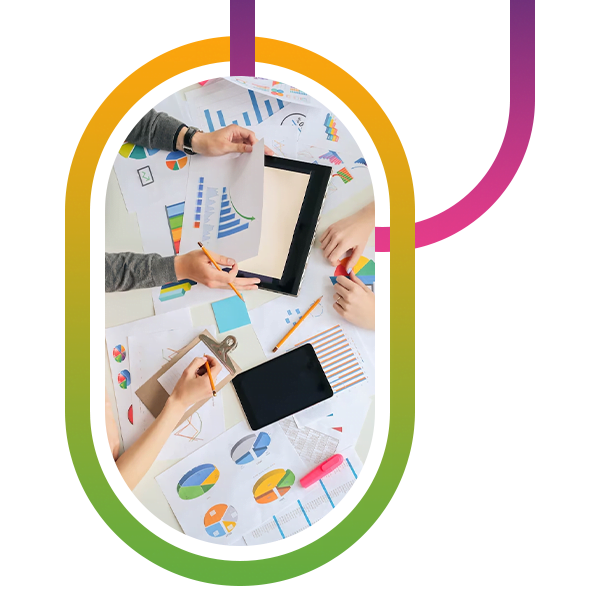 Need help with your website and marketing?
Book a FREE growth strategy session with our experts
Our award-winning team will review your website and marketing goals to provide you with crucial insight and advice.

4.8 STAR
Google reviews
With 10+ years of experience, Link Digital has helped hundreds of businesses to succeed online. We can help yours too!