 Free Digital Marketing Review
We'll show you how to hit your business goals with result-driven digital marketing.
How to Set Effective Digital Marketing Objectives
Running a business without clear goals would be like trying to drive a car to Italy with no steering wheel or any GPS navigation aids to help you get there- scary stuff!
Marketing is there to help deliver Business objectives, so if marketing objectives are not aligned to the business then what are they for?
What is the main objective of digital marketing?
In a nutshell to support the achievement of the three Main Business objectives.
Increase revenue
Reduce costs
Increase profitability
Obviously these are very high-level Business objectives and the Business strategy for achieving these objectives could be as easy "to explain" as "buying a rival company" – hence increasing market share and hence revenue. Maybe the market the client sells into is declining, so a more complex route to growing/stabilising revenue is needed -such as entering new markets.
The Ansoff Matrix approach below provides a simple route map of the main choices for businesses.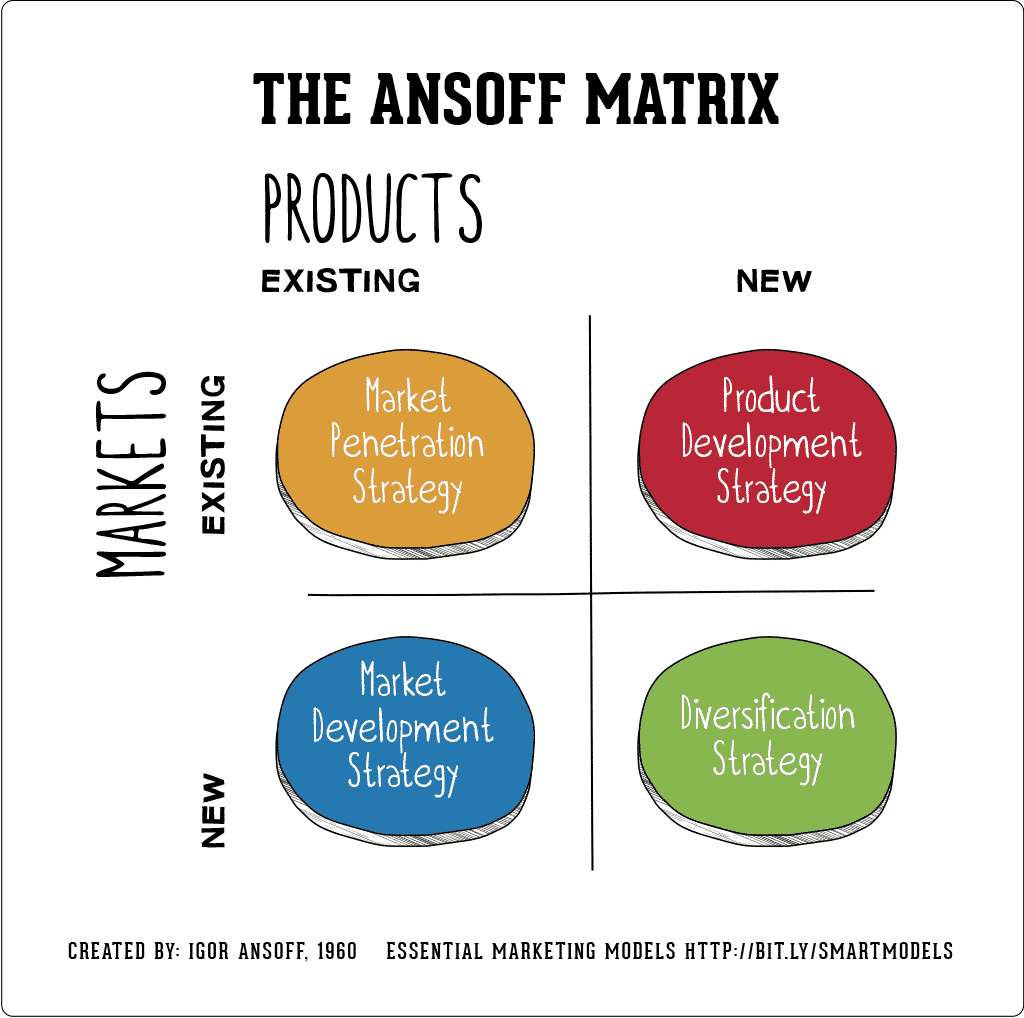 The Ansoff Approach in effect helps companies review the options for growth of a business by showing alternatives for new markets (customer types) and types of products and services.
Having read this far you may now be thinking – "but you're a Digital Marketing agency" – so yes, we're obviously not business consultants, but as Marketing experts, we have worked with hundreds of businesses and learnt a lot in the process.
To be transparent – we just wanted to start this article by emphasizing the point that Marketing is both a strategic and business focussed endeavour and not just a tactical one.
So if you hear other agencies give examples of Digital Marketing objectives such as – "Growing your Twitter followers by 500" – then we'd respectively suggest you might be in the wrong meeting. Unless, of course, the meeting is purely about "increasing your social media following by 20% in the next 12 months", in which case the Twitter idea is a good tactic.
One of our clients summed it up nicely like this:
" No company ever Tweeted a purchase order"
How do you set SMART marketing objectives?
Setting Digital Marketing objectives is actually an easy task. The challenging work -even for an experienced marketing team – is deciding which digital marketing strategies it should undertake to achieve these Digital Marketing objectives.
Starting with the objectives, for now, these obviously need to be SMART ones.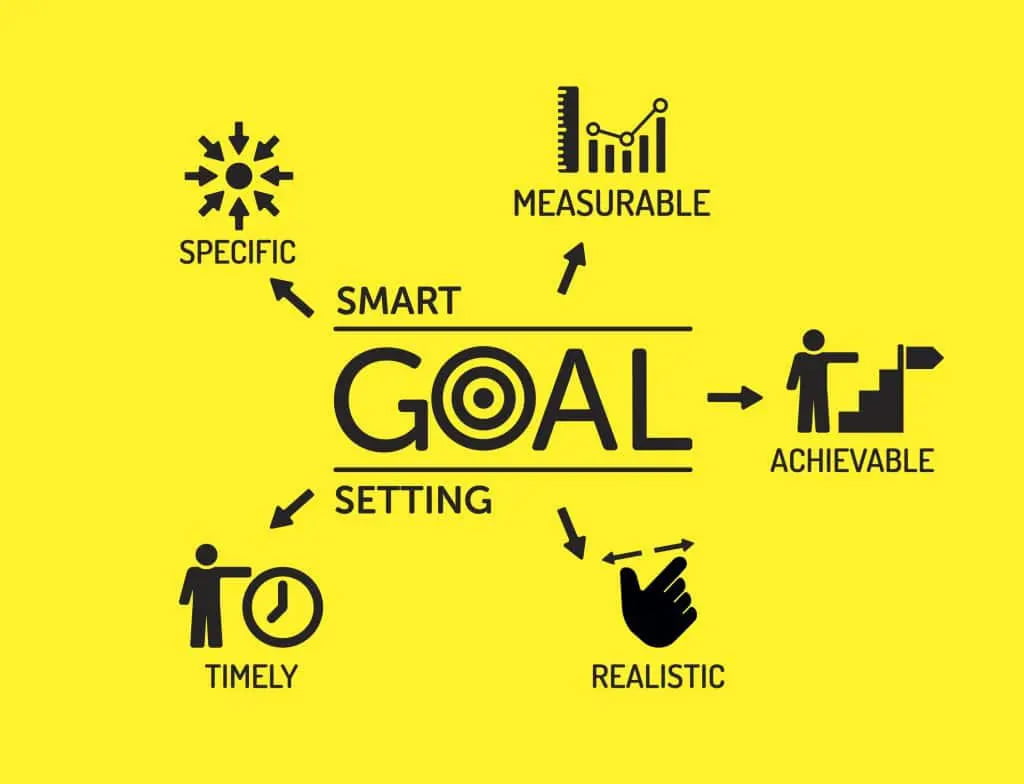 When it comes to setting objectives, there are various criteria you can use. However, when it comes to digital marketing objectives, SMART goals work best because they cover every important aspect of a proper objective.
The SMART Test for Objectives – Make sure your objectives are practical and measurable. Do they fit the following criteria?
Specific – both clearly described and unambiguous and typically with metrics (numbers) so no wriggle room
Measurable (monitor progress and confirm achievement, use tools like Google Analytics)
Actionable (can we do it? Show some evidence /proof it can be "done" -see Timed!)
Reasonable (realistically attainable)
Timed (Not just final deadlines, include timings for key stages as well )
So now you have objectives, how do you turn these Objectives into marketing digital strategy and so on?
Well, you need a plan.
Strategies for Digital Marketing
There are literally dozens of Digital Marketing Planning templates out there, one of our favourites is the SOSTAC® Planning system developed by PR Smith – not least because its handy mnemonic makes it easy to explain to all stakeholders in the business.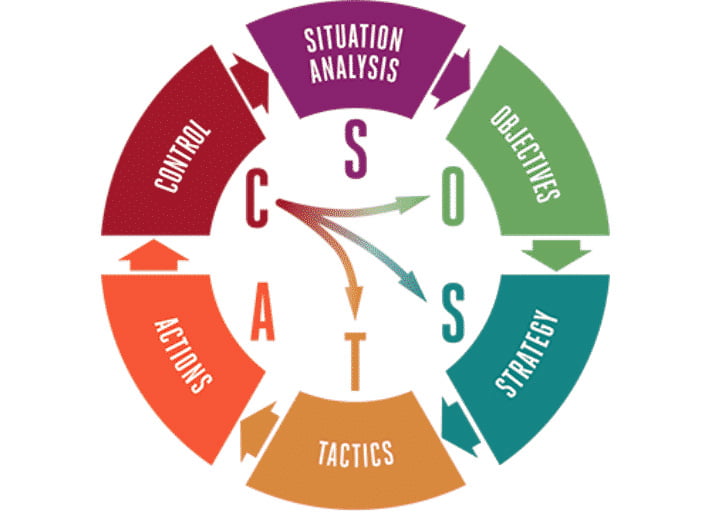 Here's a quick summary of this digital planning model along with the time investment (% time) the team should place on each step
Situational Analysis – WHERE ARE WE NOW? (20% of planning time) -Marketplace SWOT
Market trends
Competitor analysis
Internal capabilities and resources
Objectives – WHERE DO WE WANT TO GO? (5% ) – 5 S's objectives
Sell – customer acquisition and retention targets
Serve – Customer satisfaction targets
Sizzle – added value or Wow factor
Speak – Engagement of customers
Save – quantified efficiency gains
Strategy – HOW DO WE GET THERE? (45% ) – STOP and SIT
Segments
Target Markets
Objectives
Positioning
AND
Sequence – Trust, Try, Buy
Integration – Systems – Website + CRM etc
Targeting and segmentation
Tactics – How exactly do we get there (30%)
Actions – The details of tactic
Control- How do we monitor performance?
So you now have your Digital Marketing objectives and some strategies to achieve these objectives, so what will these objectives look like?
What are examples of marketing objectives?
The range of marketing objectives you can create are many and varied, but here are some of the most popular.
Note: The Examples below are deliberately not written as SMART objectives as every client's circumstances/resources/capability will differ, so clients will need to make them SMART based on their own circumstances.
Generate more leads: Lead generation is one of the top priorities for businesses and marketers.
Improve your conversion rate: Another popular and crucial digital marketing objective. Investing to create leads then not going the extra mile to nurture the leads to converted customers over time, on some estimates, wastes 90% of the revenue potential of the leads your initial investment created!
Increase your sales: Which is, after all, the ultimate goal for many different businesses. So in e-commerce businesses website sales are a marketing function. Whereas in a B2B environment marketing objectives would include using marketing automation to nurture some of the "not now" type leads, whilst sales colleagues focus on closing the hotter leads.
Increase website traffic: For example, organic traffic from SEO, traffic from Paid social media all whilst keeping an eye on bounce rate and other website performance indicators
Brand awareness for some will be a key goal and hence a key marketing strategy
Summary
A good digital marketing strategy can only start in one place: with clear, actionable and achievable goals. Setting digital marketing objectives should always be the priority as they will be the basis of your entire strategy.
They help guide your actions so that you can actually achieve your goals. By achieving your digital marketing goals, you're also helping reach your overall business objectives, whether that's boosting your overall sales or improving awareness of your brand.
If you'd like to discuss your business and of course the marketing objectives you've set yourself for the year ahead, we'd love to help where we can.
Insight Sources
Ansoff Matrix- there are many links – nice more simple one
SOSTAC – Original version by PR Smith
Adapted by Dave Chaffey of Smart Insights with PR Smith – version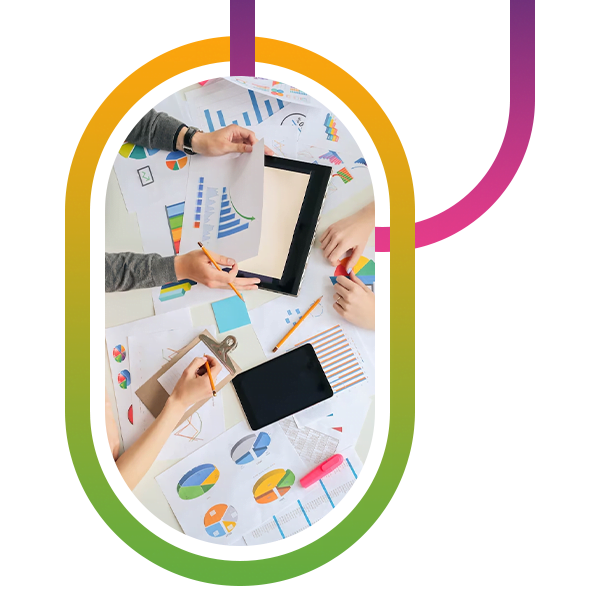 Need help with your website and marketing?
Book a FREE growth strategy session with our experts
Our award-winning team will review your website and marketing goals to provide you with crucial insight and advice.

4.8 STAR
Google reviews
With 10+ years of experience, Link Digital has helped hundreds of businesses to succeed online. We can help yours too!